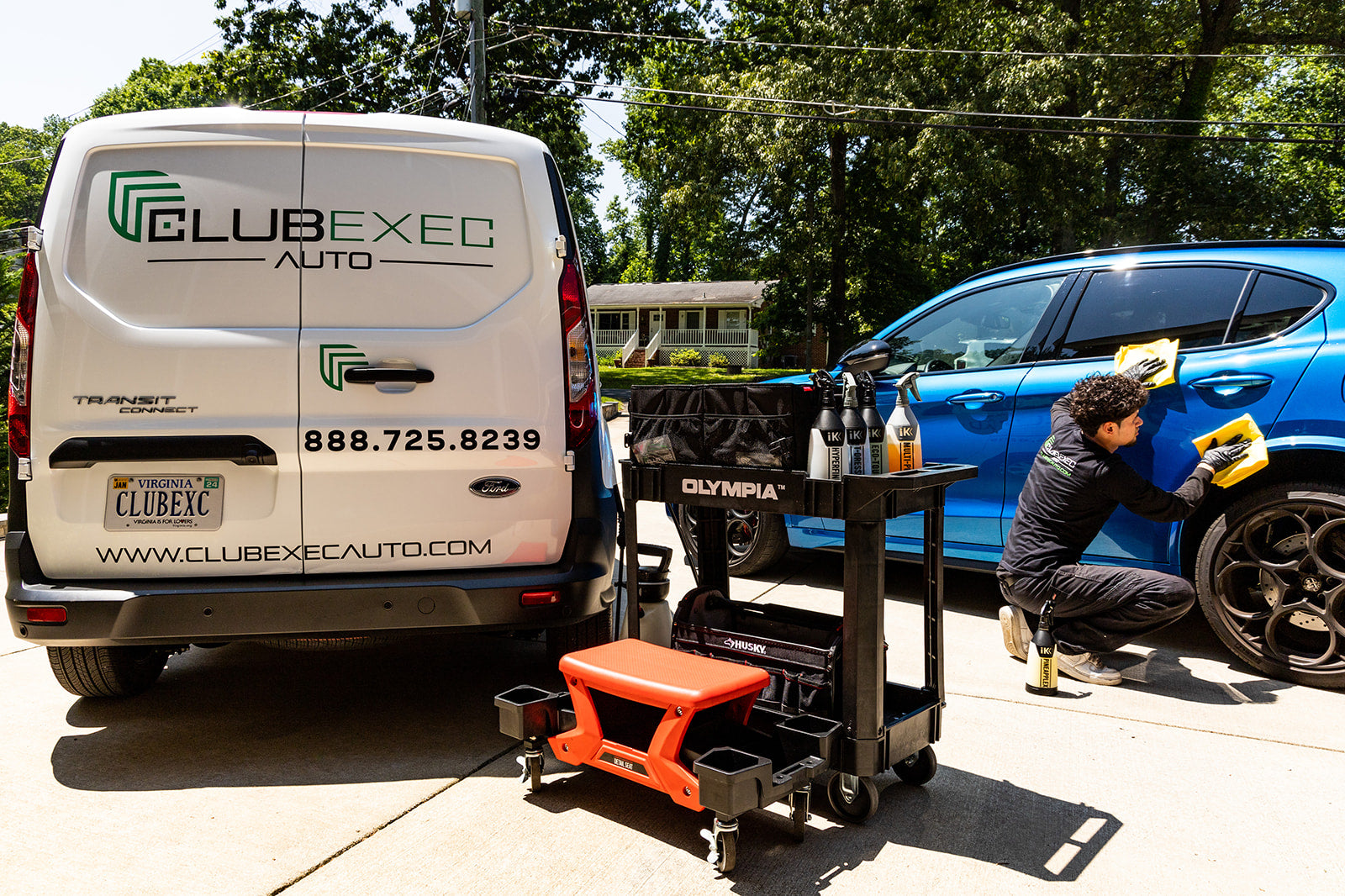 Automotive hand washing and detailing utilizing Waterless and Steam Technology
We'll come to you 
Book Now
Your One Stop Auto Care Solution
We've Got You Covered
We offer a full range of services that will help you in all your car needs. Whether you need a hand wash, detail, window tint, or PPF. We have you covered.
Book Now
ESSENTIAL MOBILE PACKAGES
Everything you need for a perfect detail!
Get Started
Exterior

Professional hand-wash & towel dry using spot-free water

Ceramic wax protection on all exterior surfaces (wheels & windows)

Wheel cleaning & tire shine

Interior

Complete interior vacuum & wipe down

Forced air for the grooves & crevices

Windows & door jambs
Exterior

Professional hand-wash & towel dry using spot-free water

Ceramic wax protection on all exterior surfaces (wheels & windows)

Wheel cleaning & tire shine

Interior

Complete interior vacuum & wipe down

Forced air for the grooves & crevices

Spot stain removal

Shampoo Mats

Leather Treatment

Windows & door jambs
Less than 1 Gallon
of water used per Vehicle
PREMIUM MOBILE PACKAGES
Take your detail to new heights!
Get Started
Our Interior Only service focuses solely on rejuvenating your vehicle's interior. We provide thorough vacuuming, steam cleaning, stain removal, and upholstery treatment. This restores cleanliness, freshness, and comfort, creating an inviting environment for your travels.

Includes:

Full Steam Treatment

Complete Interior Vacuum

Shampoo mats & flooring

Wipe all Surfaces

Leather Clean & Condition

Carpet Clean & Stain Removal

Dashboard Condition

Interior Windows
Our Exterior Only detail service focuses solely on enhancing the appearance of your vehicle's exterior. Through meticulous care, we provide a thorough hand wash, clay bar treatment, precise polishing, and a protective sealant or wax. The result is a flawless and glossy finish that will make your vehicle stand out wherever you go. *Paint Correction not included.

Includes:

Exterior Hand Wash

Clay bar & Iron Remover

Nano Ceramic Wax  

Engine Cleaning

Deep Dish Rims & Tire Shine

Wheel Wells

Exterior Windows
Our Ultimate Detail service sets the standard for professional automotive care, providing meticulous attention to detail and exceptional results. This comprehensive package includes full interior and exterior detailing, deep cleaning, and premium protective treatments. With the use of advanced techniques and high-quality products, we rejuvenate your vehicle to a flawless and extraordinary state. Experience automotive perfection with our Ultimate Detail service.
Driven by Eco innovation 
Whether you need to Clean, Correct, or Protect your vehicle, we are here to help.
Book Now
Testimonials
More Reviews
Google Review
ClubExec Auto is by far the best place to go for any of your car needs! I get my car detailed there pretty frequently and I'm always amazed by their work, I even decided to do ceramic coating on my car as well!
Anna T.
Michael and his team were incredible. The car looks and feels so much better than when I bought it. I love being able to call them anytime with anything car related and they take care of it. Best car care company in the area for sure. I don't trust my car with anyone but them. They really spoil you with service.
Google Review
Throughout the years we have had several different vehicles and each time, without fail the people over at ClubExec Auto have always treated our cars with care. Every time I would say our cars are better than new. We have and will continue to return to this company for all of our car detailing needs. Would recommend 10/10.
FAQ
Have questions about us or our services? See our frequently asked questions. If you still need help, please reach out in our contact section.
We understand that to our clients, time is money. ClubExec brings superior value by literally giving you back hours of your day. Through our innovative process, you can bring one of our specialists right to you, wherever you are, and experience unmatched professional car care and convenience day or night.
Will your process scratch the Paint?

The short answer is, no. ClubExec uses highly-specialized, one-of-a-kind formulas that begin to work on contact to gently eliminate dirt and contaminants. Cutting-edge polymers envelope any remaining debris to create a thin layer between the dirt and your car's finish. All of our ClubExec professionals hand wash and dry your vehicle, so you'll never be left with scratches, brush, swirl, or water marks. Just a sparkling-clean shine.
Do you leave a ProtectiveFinish?

ClubExec is packed full of high-grade nano-coatings that are uniquely designed to guard against harmful elements like UV rays, pollution, road salt, bird droppings, and more. Our protective layer encompasses the entire vehicle's surface including wheels and windows.
Does ClubExec contain any harsh chemicals?

We use a range of high-quality, eco-friendly detailing products that are free from harmful chemicals and toxins. These products are gentle on the environment while still delivering exceptional results.